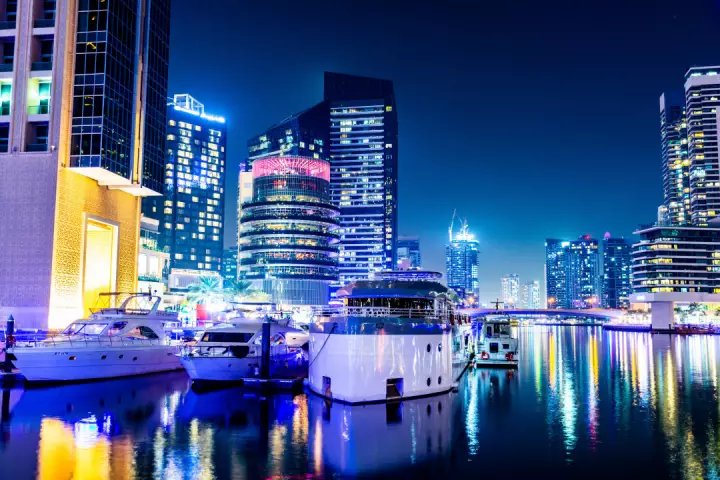 Dubai is a city that knows how to celebrate, and Eid is no exception. With abundant activities and events, it's the perfect destination to celebrate this special occasion. Some top things to do while celebrating Eid in Dubai.

Visit Dubai Mall
Dubai Mall is the world's largest mall and a must-visit destination for any Eid celebration. During the Eid festivities, the mall comes alive with decorations, entertainment, and special offers from retailers. From shopping to dining to entertainment, Dubai Mall has something for everyone.
Experience the Dubai Miracle Garden
The Dubai Miracle Garden is the world's most extensive flower garden and an enchanting destination for any Eid celebration. The park features over 45 million flowers arranged in elaborate patterns and designs, creating a magical experience for visitors. During Eid, the garden comes alive with entertainment and activities, making it the perfect destination for families and friends.
Take a Dubai Creek Cruise
Dubai Creek - a historic waterway that runs through the city's heart and offers a unique perspective of Dubai's past and present. Taking a cruise along the creek is a relaxing way to celebrate Eid while taking in the stunning views of the city skyline. Many cruise operators offer special Eid packages that include entertainment, dining, and other activities.

Enjoy a Traditional Eid Feast
Eid is a time for family and friends to get together and enjoy a feast. Dubai has a vibrant culinary scene, and many restaurants offer traditional Eid dishes. From lamb biryani to Arabic sweets, there's no shortage of delicious food to try while celebrating Eid in Dubai.
Watch the Eid Fireworks
Dubai is known for its spectacular fireworks displays, and Eid is no exception. The city puts on a dazzling show of fireworks that light up the sky and create a magical atmosphere for all to enjoy. Watch the fireworks from the beaches or the top of a skyscraper, such as the Burj Khalifa.
A yacht trip in Dubai with Xclusive Yachts during Eid is an unforgettable experience. With Xclusive Yachts, you can cruise along Dubai's stunning coastline, taking in the iconic landmarks and enjoying the city's festive atmosphere.
Whether you're looking to spend time with family and friends or to celebrate Eid in style, Xclusive Yachts offers a range of luxurious yachts to suit your needs. From intimate trips to large group celebrations, Xclusive Yachts provides exceptional service and an unforgettable experience. So, book your yacht trip with Xclusive Yachts and make your Eid celebration even more special.
Dubai-city truly comes alive during Eid, offering a wide range of activities & events for all to enjoy. Whether shopping at Dubai Mall, exploring the Miracle Garden, taking a cruise along Dubai Creek, enjoying a traditional feast, or watching the fireworks, there's something for everyone. So, come and celebrate Eid in Dubai and create memories that will last a lifetime.
Related Article :