Online Booking
Departure

Depart.

Price

Adult/Child

Ad./Ch.

Seats left
Dubai Harbor

Afternoon Tour

Today 01:00 PM

Dubai Harbor

04:00 PM
AED 460/160

*

Afternoon
3 seats left
Dubai Harbor

Sundowner

Today 05:00 PM

Dubai Harbor

08:00 PM
AED 460/160

*

Sundowner
11 seats left
Dubai Harbor

Nightfall

Today 09:00 PM

Dubai Harbor

12:00 AM
AED 360/160

*

Nightfall
Plenty

* Includes VAT
Departure

Depart.

Price

Adult/Child

Ad./Ch.

Seats left
Dubai Harbor

Morning Tour

Tomorrow 09:00 AM

Dubai Harbor

12:00 PM
AED 360/160

*

Morning
Plenty

* Includes VAT
Departure

Depart.

Price

Adult/Child

Ad./Ch.

Seats left
Dubai Harbor

Nightfall

10 Dec 09:00 PM

Dubai Harbor

12:00 AM
AED 360/160

*

Nightfall
Limited

* Includes VAT
Departure

Depart.

Price

Adult/Child

Ad./Ch.

Seats left
Dubai Harbor

Morning Tour

11 Dec 09:00 AM

Dubai Harbor

12:00 PM
AED 360/160

*

Morning
Plenty
Dubai Harbor

Afternoon Tour

11 Dec 01:00 PM

Dubai Harbor

04:00 PM
AED 460/160

*

Afternoon
Limited
Dubai Harbor

Sundowner

11 Dec 05:00 PM

Dubai Harbor

08:00 PM
AED 460/160

*

Sundowner
Plenty
Dubai Harbor

Nightfall

11 Dec 09:00 PM

Dubai Harbor

12:00 AM
AED 360/160

*

Nightfall
Plenty

* Includes VAT
Departure

Depart.

Price

Adult/Child

Ad./Ch.

Seats left
Dubai Harbor

Sundowner

12 Dec 05:00 PM

Dubai Harbor

08:00 PM
AED 460/160

*

Sundowner
Plenty
Dubai Harbor

Nightfall

12 Dec 09:00 PM

Dubai Harbor

12:00 AM
AED 360/160

*

Nightfall
Plenty

* Includes VAT
Departure

Depart.

Price

Adult/Child

Ad./Ch.

Seats left
Dubai Harbor

Morning Tour

13 Dec 09:00 AM

Dubai Harbor

12:00 PM
AED 360/160

*

Morning
Plenty
Dubai Harbor

Afternoon Tour

13 Dec 01:00 PM

Dubai Harbor

04:00 PM
AED 460/160

*

Afternoon
Plenty
Dubai Harbor

Sundowner

13 Dec 05:00 PM

Dubai Harbor

08:00 PM
AED 460/160

*

Sundowner
Plenty
Dubai Harbor

Nightfall

13 Dec 09:00 PM

Dubai Harbor

12:00 AM
AED 360/160

*

Nightfall
Plenty

* Includes VAT
Departure

Depart.

Price

Adult/Child

Ad./Ch.

Seats left
Dubai Harbor

Morning Tour

14 Dec 09:00 AM

Dubai Harbor

12:00 PM
AED 360/160

*

Morning
Plenty
Dubai Harbor

Afternoon Tour

14 Dec 01:00 PM

Dubai Harbor

04:00 PM
AED 460/160

*

Afternoon
Plenty
Dubai Harbor

Sundowner

14 Dec 05:00 PM

Dubai Harbor

08:00 PM
AED 460/160

*

Sundowner
Plenty
Dubai Harbor

Nightfall

14 Dec 09:00 PM

Dubai Harbor

12:00 AM
AED 360/160

*

Nightfall
Plenty

* Includes VAT
Departure

Depart.

Price

Adult/Child

Ad./Ch.

Seats left
Dubai Harbor

Morning Tour

15 Dec 09:00 AM

Dubai Harbor

12:00 PM
AED 360/160

*

Morning
Plenty
Dubai Harbor

Nightfall

15 Dec 09:00 PM

Dubai Harbor

12:00 AM
AED 360/160

*

Nightfall
Plenty

* Includes VAT
Departure

Depart.

Price

Adult/Child

Ad./Ch.

Seats left
Dubai Harbor

Morning Tour

16 Dec 09:00 AM

Dubai Harbor

12:00 PM
AED 360/160

*

Morning
Plenty
Dubai Harbor

Afternoon Tour

16 Dec 01:00 PM

Dubai Harbor

04:00 PM
AED 460/160

*

Afternoon
Plenty
Dubai Harbor

Sundowner

16 Dec 05:00 PM

Dubai Harbor

08:00 PM
AED 460/160

*

Sundowner
Plenty
Dubai Harbor

Nightfall

16 Dec 09:00 PM

Dubai Harbor

12:00 AM
AED 360/160

*

Nightfall
Plenty

* Includes VAT
Looking for a future date?
Book with confidence, free cancellation, cancel up to 24 hours in advance to receive a full refund




Super yacht Experience
A once in lifetime experience on board of 42 meter tri-deck super yacht. Never done before experience, this is your chance to feel like a oligarch for the day! Suitable for families, couples and friends alike.
Tri-deck super yacht
DJ Live Entertainment
Live cooking station
Red carpet departure
Premium beverages inclusive
Enjoy swimming & inflatable pool
Highlights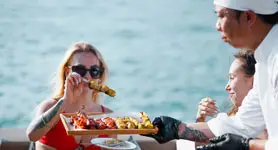 Gourmet Cuisine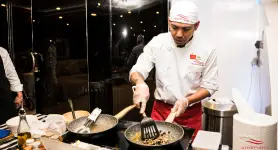 Live Pasta Station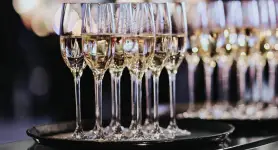 Premium Beverages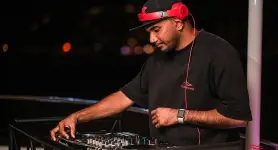 Live DJ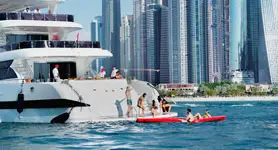 Swimming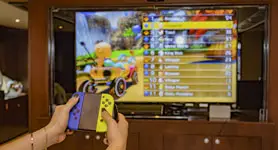 Nintendo
FAQ
Where does the yacht depart from?
We do not offer transfers, please make your own way:
Google Map
Free parking available at the Harbour
Where is the boarding point?
Do you have parking facilities?
By Car: we recommend you to park at the Harbour free parking
Is there a tour guide on board?
We operate audio GPS guided system which will tell you about each icon as you navigate past it.
No, this will be a shared yacht experience with other guests joining you on board.
Will there be an assigned space for us?
There will be no allocated spaces for guests. You will be free to move around the yacht (both upper and lower decks) and click pictures, have a sun bath or just have a relaxing time on our comfortable couches.
Can I bring in food and drinks?
Food and beverages will be served on board. The BBQ will include meat, chicken and vegetarian options with side salad dishes and bread.
Can I bring my own alcohol on board?
No, beverages are all inclusive.
Yes, during day hours you can swim if weather permits, don't forget your swimming attire.
Are babies allowed on board?
Yes, minors under 2yrs are permitted but must remain within the Saloon or Cabin area accompanied by an adult. Children under the age of 9 are required to wear life jackets throughout the charter.
Is there any specific dress code?
Please wear what you are comfortable wearing, we suggest shorts & T-shirt and slippers. However if you want those instagram photos dress as you desire!
Will there be options to stop the cruise for pictures?
The Captain will allow you to take pictures and entertain your requests without having to compromise on the cruise schedule.
What time should we arrive on the day of the cruise?
Please arrive 20-30 min prior to your charter and make the operations team aware when you arrive.
Can we wear shoes on board?
For the safety of our guests and to keep the yacht in pristine condition we require all guests to remove their footwear when boarding.
The boat will depart sharp, we recommend you arrive at least 15 minutes prior, no refunds will be given if you miss the boat.
Free cancellation, cancel up to 24 hours in advance to receive a full refund.
Photo Moments
We liked the crew so much, they were so kind and helpful. The boat was as advertised and great we enjoyed a lot.

Arda / 01 Dec 2023 / 56ft Luxury Yacht

5.00
More Reviews