Online Booking
Departure

Depart.

Price

Adult/Child

Ad./Ch.

Seats left

Dubai Marina Sunset Cruise

Today 05:00 PM

06:30 PM
AED 210/160

*

Dubai Marina Sunset Cruise
Limited

Dubai Marina Dinner Cruise

Today 08:30 PM

10:00 PM
AED 260/160

*

Dubai Marina Dinner Cruise
Plenty

* Includes VAT
Departure

Depart.

Price

Adult/Child

Ad./Ch.

Seats left

Dubai Marina Sunset Cruise

Tomorrow 05:00 PM

06:30 PM
AED 210/160

*

Dubai Marina Sunset Cruise
Limited

Dubai Marina Dinner Cruise

Tomorrow 08:30 PM

10:00 PM
AED 260/160

*

Dubai Marina Dinner Cruise
9 seats left

* Includes VAT
Departure

Depart.

Price

Adult/Child

Ad./Ch.

Seats left

Dubai Marina Sunset Cruise

14 Dec 05:00 PM

06:30 PM
AED 210/160

*

Dubai Marina Sunset Cruise
Plenty

Dubai Marina Dinner Cruise

14 Dec 08:30 PM

10:00 PM
AED 260/160

*

Dubai Marina Dinner Cruise
Plenty

* Includes VAT
Departure

Depart.

Price

Adult/Child

Ad./Ch.

Seats left

Dubai Marina Sunset Cruise

15 Dec 05:00 PM

06:30 PM
AED 210/160

*

Dubai Marina Sunset Cruise
Plenty

Dubai Marina Dinner Cruise

15 Dec 08:30 PM

10:00 PM
AED 260/160

*

Dubai Marina Dinner Cruise
Plenty

* Includes VAT
Departure

Depart.

Price

Adult/Child

Ad./Ch.

Seats left

Dubai Marina Sunset Cruise

16 Dec 05:00 PM

06:30 PM
AED 210/160

*

Dubai Marina Sunset Cruise
Plenty

Dubai Marina Dinner Cruise

16 Dec 08:30 PM

10:00 PM
AED 260/160

*

Dubai Marina Dinner Cruise
Plenty

* Includes VAT
Departure

Depart.

Price

Adult/Child

Ad./Ch.

Seats left

Dubai Marina Sunset Cruise

17 Dec 05:00 PM

06:30 PM
AED 210/160

*

Dubai Marina Sunset Cruise
Limited

Dubai Marina Dinner Cruise

17 Dec 08:30 PM

10:00 PM
AED 260/160

*

Dubai Marina Dinner Cruise
Plenty

* Includes VAT
Departure

Depart.

Price

Adult/Child

Ad./Ch.

Seats left

Dubai Marina Sunset Cruise

18 Dec 05:00 PM

06:30 PM
AED 210/160

*

Dubai Marina Sunset Cruise
Plenty

Dubai Marina Dinner Cruise

18 Dec 08:30 PM

10:00 PM
AED 260/160

*

Dubai Marina Dinner Cruise
Plenty

* Includes VAT
Departure

Depart.

Price

Adult/Child

Ad./Ch.

Seats left

Dubai Marina Sunset Cruise

19 Dec 05:00 PM

06:30 PM
AED 210/160

*

Dubai Marina Sunset Cruise
Plenty

Dubai Marina Dinner Cruise

19 Dec 08:30 PM

10:00 PM
AED 260/160

*

Dubai Marina Dinner Cruise
Plenty

* Includes VAT
Departure

Depart.

Price

Adult/Child

Ad./Ch.

Seats left

Dubai Marina Sunset Cruise

20 Dec 05:00 PM

06:30 PM
AED 210/160

*

Dubai Marina Sunset Cruise
Plenty

Dubai Marina Dinner Cruise

20 Dec 08:30 PM

10:00 PM
AED 260/160

*

Dubai Marina Dinner Cruise
Plenty

* Includes VAT
Looking for a future date?
Book with confidence, free cancellation, cancel up to 24 hours in advance to receive a full refund


90 Minutes Cruise
Make your evening extra special with Dubai's only 5star luxury boat cruise. Our service guarantees a luxury dinner cruise onboard our 125ft glass houseboat. Savor our sumptuous international buffet menu by The Radisson Blu Hotel on your private seating.
Operates Daily
Live Cooking Station
Musician On Board
Highlights
Live Musician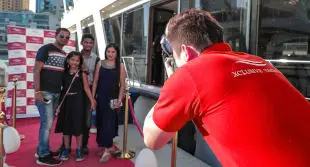 Red Carpet Entry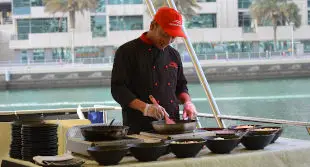 Live Cooking Station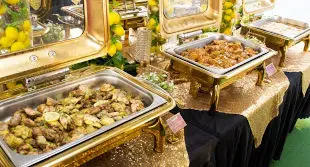 International Buffet
FAQ
Daily we run a Sunset Cruise at 5 PM and Dinner Cruise at 8:30 PM
We do not offer transfers, please make your own way:
Xclusive Marina – Behind Al Majara Towers
By Metro: arrive at DMCC Metro Station
By Taxi: drop off at Al Majara Towers
By Car: parking at Marina Mall (3 hrs free)
Where is the boarding point?
Do you have parking facilities?
By Car: we recommend you to park at Marina Mall (3 hrs free)
What is your Infant policy?
Infants and children below 3 are free, please inform us number of infants/children
How do I know which boat I am booked on?
You can see below the operating boat for the day, the boat we operate depends on occupancy & availability schedule and is subject to change
Is this the same as a dhow cruise dubai?
This is a completely unique experience far superior to dubai dhow cruise
Will I be seated on upper or lower deck?
Upon making booking there is an option to book upper deck at additional cost per person. Subject to availability. If seated on lower deck, we have a open area for photo opportunities and you are welcome to visit the upper deck as well.
Will I be sharing table with others?
You and your guest will be having a private table.
Free cancellation upto 24 hours before departure, note refunds can take upto 14 working days to process.
Photo Moments
We liked the crew so much, they were so kind and helpful. The boat was as advertised and great we enjoyed a lot.

Arda / 01 Dec 2023 / 56ft Luxury Yacht

5.00
More Reviews