Online Booking
Departure

Depart.

Price

Adult/Child

Ad./Ch.

Seats left
Today 12:00 PM
01:30 PM
AED 160/120

*

2 seats left
Today 12:00 PM
01:30 PM
AED 160/120

*

Plenty
Today 01:00 PM
02:30 PM
AED 160/120

*

Plenty
Today 01:00 PM
02:30 PM
AED 160/120

*

Plenty
Today 02:00 PM
03:30 PM
AED 160/120

*

Plenty
Today 02:00 PM
03:30 PM
AED 160/120

*

Plenty
Today 03:00 PM
04:30 PM
AED 160/120

*

1 seats left
Today 03:00 PM
04:30 PM
AED 160/120

*

Plenty
Today 04:00 PM
05:30 PM
AED 160/120

*

Limited
Today 05:00 PM
06:30 PM
AED 160/120

*

Plenty
Today 05:00 PM
06:30 PM
AED 160/120

*

Limited

* Includes VAT
Departure

Depart.

Price

Adult/Child

Ad./Ch.

Seats left
Tomorrow 09:00 AM
10:30 AM
AED 160/120

*

2 seats left
Tomorrow 09:00 AM
10:30 AM
AED 160/120

*

Plenty
Tomorrow 10:00 AM
11:30 AM
AED 160/120

*

Limited
Tomorrow 10:00 AM
11:30 AM
AED 160/120

*

Plenty
Tomorrow 11:00 AM
12:30 PM
AED 160/120

*

Plenty
Tomorrow 11:00 AM
12:30 PM
AED 160/120

*

Plenty
Tomorrow 12:00 PM
01:30 PM
AED 160/120

*

Plenty
Tomorrow 01:00 PM
02:30 PM
AED 160/120

*

Plenty
Tomorrow 01:00 PM
02:30 PM
AED 160/120

*

Plenty
Tomorrow 02:00 PM
03:30 PM
AED 160/120

*

Plenty
Tomorrow 02:00 PM
03:30 PM
AED 160/120

*

Plenty
Tomorrow 03:00 PM
04:30 PM
AED 160/120

*

Limited
Tomorrow 03:00 PM
04:30 PM
AED 160/120

*

Plenty
Tomorrow 04:00 PM
05:30 PM
AED 160/120

*

Limited
Tomorrow 04:00 PM
05:30 PM
AED 160/120

*

Plenty
Tomorrow 05:00 PM
06:30 PM
AED 160/120

*

Plenty
Tomorrow 05:00 PM
06:30 PM
AED 160/120

*

Limited

* Includes VAT
Departure

Depart.

Price

Adult/Child

Ad./Ch.

Seats left
10 Dec 09:00 AM
10:30 AM
AED 160/120

*

Plenty
10 Dec 09:00 AM
10:30 AM
AED 160/120

*

Plenty
10 Dec 10:00 AM
11:30 AM
AED 160/120

*

Plenty
10 Dec 10:00 AM
11:30 AM
AED 160/120

*

Plenty
10 Dec 11:00 AM
12:30 PM
AED 160/120

*

Limited
10 Dec 12:00 PM
01:30 PM
AED 160/120

*

Plenty
10 Dec 12:00 PM
01:30 PM
AED 160/120

*

Plenty
10 Dec 01:00 PM
02:30 PM
AED 160/120

*

Plenty
10 Dec 02:00 PM
03:30 PM
AED 160/120

*

Limited
10 Dec 02:00 PM
03:30 PM
AED 160/120

*

Plenty
10 Dec 03:00 PM
04:30 PM
AED 160/120

*

Plenty
10 Dec 03:00 PM
04:30 PM
AED 160/120

*

Plenty
10 Dec 04:00 PM
05:30 PM
AED 160/120

*

Limited
10 Dec 04:00 PM
05:30 PM
AED 160/120

*

Plenty
10 Dec 05:00 PM
06:30 PM
AED 160/120

*

Plenty
10 Dec 05:00 PM
06:30 PM
AED 160/120

*

2 seats left

* Includes VAT
Departure

Depart.

Price

Adult/Child

Ad./Ch.

Seats left
11 Dec 09:00 AM
10:30 AM
AED 160/120

*

Limited
11 Dec 09:00 AM
10:30 AM
AED 160/120

*

Plenty
11 Dec 10:00 AM
11:30 AM
AED 160/120

*

Plenty
11 Dec 10:00 AM
11:30 AM
AED 160/120

*

Plenty
11 Dec 11:00 AM
12:30 PM
AED 160/120

*

Plenty
11 Dec 12:00 PM
01:30 PM
AED 160/120

*

Limited
11 Dec 12:00 PM
01:30 PM
AED 160/120

*

Plenty
11 Dec 01:00 PM
02:30 PM
AED 160/120

*

Plenty
11 Dec 01:00 PM
02:30 PM
AED 160/120

*

Plenty
11 Dec 02:00 PM
03:30 PM
AED 160/120

*

Plenty
11 Dec 02:00 PM
03:30 PM
AED 160/120

*

Limited
11 Dec 03:00 PM
04:30 PM
AED 160/120

*

Plenty
11 Dec 03:00 PM
04:30 PM
AED 160/120

*

Plenty
11 Dec 04:00 PM
05:30 PM
AED 160/120

*

Limited
11 Dec 04:00 PM
05:30 PM
AED 160/120

*

Plenty
11 Dec 05:00 PM
06:30 PM
AED 160/120

*

Plenty
11 Dec 05:00 PM
06:30 PM
AED 160/120

*

Plenty

* Includes VAT
Departure

Depart.

Price

Adult/Child

Ad./Ch.

Seats left
12 Dec 09:00 AM
10:30 AM
AED 160/120

*

Plenty
12 Dec 09:00 AM
10:30 AM
AED 160/120

*

Plenty
12 Dec 10:00 AM
11:30 AM
AED 160/120

*

Plenty
12 Dec 10:00 AM
11:30 AM
AED 160/120

*

Limited
12 Dec 11:00 AM
12:30 PM
AED 160/120

*

Plenty
12 Dec 11:00 AM
12:30 PM
AED 160/120

*

Plenty
12 Dec 12:00 PM
01:30 PM
AED 160/120

*

Plenty
12 Dec 12:00 PM
01:30 PM
AED 160/120

*

Limited
12 Dec 01:00 PM
02:30 PM
AED 160/120

*

Plenty
12 Dec 01:00 PM
02:30 PM
AED 160/120

*

Plenty
12 Dec 02:00 PM
03:30 PM
AED 160/120

*

Plenty
12 Dec 02:00 PM
03:30 PM
AED 160/120

*

Plenty
12 Dec 03:00 PM
04:30 PM
AED 160/120

*

Plenty
12 Dec 03:00 PM
04:30 PM
AED 160/120

*

Plenty
12 Dec 04:00 PM
05:30 PM
AED 160/120

*

Limited
12 Dec 04:00 PM
05:30 PM
AED 160/120

*

Plenty
12 Dec 05:00 PM
06:30 PM
AED 160/120

*

Plenty
12 Dec 05:00 PM
06:30 PM
AED 160/120

*

Plenty

* Includes VAT
Departure

Depart.

Price

Adult/Child

Ad./Ch.

Seats left
13 Dec 09:00 AM
10:30 AM
AED 160/120

*

Plenty
13 Dec 09:00 AM
10:30 AM
AED 160/120

*

Plenty
13 Dec 10:00 AM
11:30 AM
AED 160/120

*

Plenty
13 Dec 10:00 AM
11:30 AM
AED 160/120

*

Plenty
13 Dec 11:00 AM
12:30 PM
AED 160/120

*

Plenty
13 Dec 11:00 AM
12:30 PM
AED 160/120

*

Plenty
13 Dec 12:00 PM
01:30 PM
AED 160/120

*

Plenty
13 Dec 12:00 PM
01:30 PM
AED 160/120

*

Plenty
13 Dec 01:00 PM
02:30 PM
AED 160/120

*

Plenty
13 Dec 01:00 PM
02:30 PM
AED 160/120

*

Plenty
13 Dec 02:00 PM
03:30 PM
AED 160/120

*

Plenty
13 Dec 02:00 PM
03:30 PM
AED 160/120

*

Plenty
13 Dec 03:00 PM
04:30 PM
AED 160/120

*

Limited
13 Dec 03:00 PM
04:30 PM
AED 160/120

*

Plenty
13 Dec 04:00 PM
05:30 PM
AED 160/120

*

Plenty
13 Dec 04:00 PM
05:30 PM
AED 160/120

*

Plenty
13 Dec 05:00 PM
06:30 PM
AED 160/120

*

Plenty
13 Dec 05:00 PM
06:30 PM
AED 160/120

*

Plenty

* Includes VAT
Departure

Depart.

Price

Adult/Child

Ad./Ch.

Seats left
14 Dec 09:00 AM
10:30 AM
AED 160/120

*

Plenty
14 Dec 09:00 AM
10:30 AM
AED 160/120

*

Plenty
14 Dec 10:00 AM
11:30 AM
AED 160/120

*

Plenty
14 Dec 10:00 AM
11:30 AM
AED 160/120

*

Plenty
14 Dec 11:00 AM
12:30 PM
AED 160/120

*

Plenty
14 Dec 11:00 AM
12:30 PM
AED 160/120

*

Plenty
14 Dec 12:00 PM
01:30 PM
AED 160/120

*

Plenty
14 Dec 12:00 PM
01:30 PM
AED 160/120

*

Plenty
14 Dec 01:00 PM
02:30 PM
AED 160/120

*

Plenty
14 Dec 01:00 PM
02:30 PM
AED 160/120

*

Plenty
14 Dec 02:00 PM
03:30 PM
AED 160/120

*

Limited
14 Dec 02:00 PM
03:30 PM
AED 160/120

*

Plenty
14 Dec 03:00 PM
04:30 PM
AED 160/120

*

Plenty
14 Dec 03:00 PM
04:30 PM
AED 160/120

*

Plenty
14 Dec 04:00 PM
05:30 PM
AED 160/120

*

Limited
14 Dec 04:00 PM
05:30 PM
AED 160/120

*

Plenty
14 Dec 05:00 PM
06:30 PM
AED 160/120

*

Plenty
14 Dec 05:00 PM
06:30 PM
AED 160/120

*

Plenty

* Includes VAT
Departure

Depart.

Price

Adult/Child

Ad./Ch.

Seats left
15 Dec 09:00 AM
10:30 AM
AED 160/120

*

Plenty
15 Dec 09:00 AM
10:30 AM
AED 160/120

*

Plenty
15 Dec 10:00 AM
11:30 AM
AED 160/120

*

Limited
15 Dec 10:00 AM
11:30 AM
AED 160/120

*

Plenty
15 Dec 11:00 AM
12:30 PM
AED 160/120

*

Plenty
15 Dec 11:00 AM
12:30 PM
AED 160/120

*

Plenty
15 Dec 12:00 PM
01:30 PM
AED 160/120

*

Plenty
15 Dec 12:00 PM
01:30 PM
AED 160/120

*

Plenty
15 Dec 01:00 PM
02:30 PM
AED 160/120

*

Plenty
15 Dec 01:00 PM
02:30 PM
AED 160/120

*

Plenty
15 Dec 02:00 PM
03:30 PM
AED 160/120

*

Plenty
15 Dec 02:00 PM
03:30 PM
AED 160/120

*

Plenty
15 Dec 03:00 PM
04:30 PM
AED 160/120

*

Plenty
15 Dec 03:00 PM
04:30 PM
AED 160/120

*

Plenty
15 Dec 04:00 PM
05:30 PM
AED 160/120

*

Limited
15 Dec 04:00 PM
05:30 PM
AED 160/120

*

Plenty
15 Dec 05:00 PM
06:30 PM
AED 160/120

*

Plenty
15 Dec 05:00 PM
06:30 PM
AED 160/120

*

Plenty

* Includes VAT
Departure

Depart.

Price

Adult/Child

Ad./Ch.

Seats left
16 Dec 09:00 AM
10:30 AM
AED 160/120

*

Plenty
16 Dec 09:00 AM
10:30 AM
AED 160/120

*

Plenty
16 Dec 10:00 AM
11:30 AM
AED 160/120

*

Limited
16 Dec 10:00 AM
11:30 AM
AED 160/120

*

Plenty
16 Dec 11:00 AM
12:30 PM
AED 160/120

*

Plenty
16 Dec 11:00 AM
12:30 PM
AED 160/120

*

Plenty
16 Dec 12:00 PM
01:30 PM
AED 160/120

*

Limited
16 Dec 12:00 PM
01:30 PM
AED 160/120

*

Plenty
16 Dec 01:00 PM
02:30 PM
AED 160/120

*

Plenty
16 Dec 01:00 PM
02:30 PM
AED 160/120

*

Plenty
16 Dec 02:00 PM
03:30 PM
AED 160/120

*

Plenty
16 Dec 02:00 PM
03:30 PM
AED 160/120

*

Plenty
16 Dec 03:00 PM
04:30 PM
AED 160/120

*

Plenty
16 Dec 03:00 PM
04:30 PM
AED 160/120

*

Plenty
16 Dec 04:00 PM
05:30 PM
AED 160/120

*

Plenty
16 Dec 04:00 PM
05:30 PM
AED 160/120

*

Plenty
16 Dec 05:00 PM
06:30 PM
AED 160/120

*

Limited
16 Dec 05:00 PM
06:30 PM
AED 160/120

*

Limited

* Includes VAT
Looking for a future date?
Book with confidence, free cancellation, cancel up to 24 hours in advance to receive a full refund
Guided Sightseeing Tours
Book the most popular Sightseeing tour in Dubai with us. The tour will bring you the best 90 minutes boat ride in Dubai. Experience the adrenaline rush of a highspeed boat tour of up to 30-35 knots. Capture as many photos as you want with the most picturesque views in Dubai as your backdrop.
Departing every hour from 9 AM to 5 PM daily
Experienced Captain & Crew
Tour guide on board
Chilled water included
Red carpet departure
Main Attractions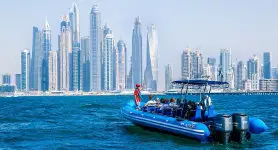 Marina Skyline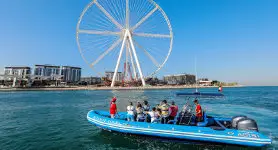 Ain Wheel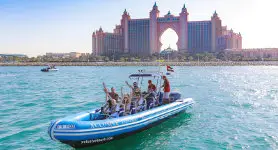 Atlantis The Palm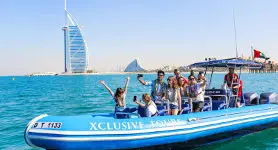 Burj Al Arab
FAQ
Where does the boat depart from?
We do not offer transfers, please make your own way:
Xclusive Marina – Behind Al Majara Towers
By Metro: arrive at DMCC Metro Station
By Taxi: drop off at Al Majara Towers
By Car: parking at Marina Mall (3 hrs free)
Is there a place where we can park?
By Car: we recommend you to park at Marina Mall (3 hrs free)
Where is the boarding point?
Depending on the sea conditions, you may expect few sprinkles and splashes whilst on the tour. On normal sea conditions, all guests stay dry on board. In the event of winds and choppy seas, you will be advised accordingly by your Captain prior boarding.
Is it safe for pregnant women?
As sea conditions are ever so unpredictable, we do not permit women at any stage of pregnancy on board for safety. Same safety requirements apply to people with back issues, and other medical-related conditions that can be worsen by sudden boat movements and sea motion.
Is the tour safe for children?
Yes, however, for safety, infants are not permitted on board.
Can we get off / swim while on the tour?
Please be advised that all passengers must remain inside the boat throughout the duration of the tour. The stopovers are for photo opportunities and live commentary.
Can you accommodate people on wheelchair?
Our Captain and Crew are more than happy to assist should you have guests on wheelchair.
Can we have the commentary in other language than English?
As the tours are shared with diverse nationalities on board on each tour, the commentary on board is only available in English.
Can we choose our seats on the boat?
Seating arrangement is based on a first come, first serve basis. But, as our boats are open, rest assured that you will get a 360-degree view of all the attractions on any seat you choose.
The boat will depart sharp, we recommend you arrive at least 15 minutes prior, no refunds will be given if you miss the boat.
Free cancellation upto 24 hours before departure, note refunds can take upto 14 working days to process.
Photo Moments
We liked the crew so much, they were so kind and helpful. The boat was as advertised and great we enjoyed a lot.

Arda / 01 Dec 2023 / 56ft Luxury Yacht

5.00
More Reviews