Online Booking
Departure

Depart.

Price

Adult/Child

Ad./Ch.

Seats left
Dubai Marina

Ain Tour

Today 05:00 PM

Dubai Marina

06:00 PM
AED 80/80

*

Ain
Limited
Dubai Marina

Ain Tour

Today 06:30 PM

Dubai Marina

07:30 PM
AED 80/80

*

Ain
Plenty

* Includes VAT
Departure

Depart.

Price

Adult/Child

Ad./Ch.

Seats left
Dubai Marina

Ain Tour

Tomorrow 05:00 PM

Dubai Marina

06:00 PM
AED 80/80

*

Ain
Plenty
Dubai Marina

Ain Tour

Tomorrow 06:30 PM

Dubai Marina

07:30 PM
AED 80/80

*

Ain
Plenty

* Includes VAT
Departure

Depart.

Price

Adult/Child

Ad./Ch.

Seats left
Dubai Marina

Ain Tour

10 Dec 05:00 PM

Dubai Marina

06:00 PM
AED 80/80

*

Ain
Plenty
Dubai Marina

Ain Tour

10 Dec 06:30 PM

Dubai Marina

07:30 PM
AED 80/80

*

Ain
Plenty

* Includes VAT
Departure

Depart.

Price

Adult/Child

Ad./Ch.

Seats left
Dubai Marina

Ain Tour

11 Dec 05:00 PM

Dubai Marina

06:00 PM
AED 80/80

*

Ain
Plenty
Dubai Marina

Ain Tour

11 Dec 06:30 PM

Dubai Marina

07:30 PM
AED 80/80

*

Ain
Plenty

* Includes VAT
Departure

Depart.

Price

Adult/Child

Ad./Ch.

Seats left
Dubai Marina

Ain Tour

12 Dec 05:00 PM

Dubai Marina

06:00 PM
AED 80/80

*

Ain
Plenty
Dubai Marina

Ain Tour

12 Dec 06:30 PM

Dubai Marina

07:30 PM
AED 80/80

*

Ain
Plenty

* Includes VAT
Departure

Depart.

Price

Adult/Child

Ad./Ch.

Seats left
Dubai Marina

Ain Tour

13 Dec 05:00 PM

Dubai Marina

06:00 PM
AED 80/80

*

Ain
Plenty
Dubai Marina

Ain Tour

13 Dec 06:30 PM

Dubai Marina

07:30 PM
AED 80/80

*

Ain
Plenty

* Includes VAT
Departure

Depart.

Price

Adult/Child

Ad./Ch.

Seats left
Dubai Marina

Ain Tour

14 Dec 05:00 PM

Dubai Marina

06:00 PM
AED 80/80

*

Ain
Plenty
Dubai Marina

Ain Tour

14 Dec 06:30 PM

Dubai Marina

07:30 PM
AED 80/80

*

Ain
Plenty

* Includes VAT
Departure

Depart.

Price

Adult/Child

Ad./Ch.

Seats left
Dubai Marina

Ain Tour

15 Dec 05:00 PM

Dubai Marina

06:00 PM
AED 80/80

*

Ain
Plenty
Dubai Marina

Ain Tour

15 Dec 06:30 PM

Dubai Marina

07:30 PM
AED 80/80

*

Ain
Plenty

* Includes VAT
Departure

Depart.

Price

Adult/Child

Ad./Ch.

Seats left
Dubai Marina

Ain Tour

16 Dec 05:00 PM

Dubai Marina

06:00 PM
AED 80/80

*

Ain
Plenty
Dubai Marina

Ain Tour

16 Dec 06:30 PM

Dubai Marina

07:30 PM
AED 80/80

*

Ain
Plenty

* Includes VAT
Looking for a future date?
Book with confidence, free cancellation, cancel up to 24 hours in advance to receive a full refund


Ain Wheel Dubai
Looking for a budget friendly cruise in Dubai Marina? Xclusive Yachts Ain Tour is our best cruise deal and offer to explore Dubai Marina and JBR. Witness the World's Largest Ferries wheel - Ain Dubai from the sea with your friends and family.
Operates Daily
Chilled bottled water included
Red Carpet Departure
Fully A/C lower deck
Red Carpet Departure
Highlights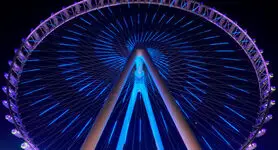 Scenic Views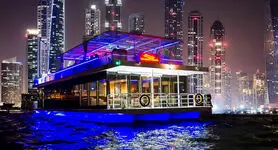 Houseboat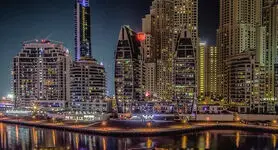 Marina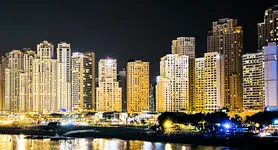 JBR
FAQ
Where does the yacht depart from?
No. We do not offer transfers, please make your own way:
Xclusive Marina – Behind Al Majara Towers
By Metro: arrive at DMCC Metro Station, walk toward Nuran Residences
By Taxi: drop off at Al Majara Towers
By Car: parking at Marina Mall (3 hrs free)
Where is the boarding point?
Do you have parking facilities?
By Car: we recommend you to park at Marina Mall (3 hrs free)
Will there be an assigned space for us?
There will be no allocated spaces for guests. You will be free to move around the boat (both upper and lower decks) and click pictures.
No. Swimming is strictly prohibited.
Are babies allowed on board?
Yes. Kids under 2yrs are permitted but must be accompanied by an adult at all times. Our crew are not there to look after your babies.
Is this the same as a dhow cruise Dubai?
This is a completely unique experience far superior to Dubai dhow cruise.
Is there any food included?
Please note since it's a one hour tour no food will be provided only water will be served.
Will there be options to stop the cruise for pictures?
The captain will allow you to take pictures and entertain your requests without having to compromise on the cruise schedule.
The boat will depart sharp, we recommend you arrive at least 45 minutes prior, no refunds will be given if you miss the boat.
Free cancellation upto 24 hours before departure, note refunds can take upto 14 working days to process.
Photo Moments
We liked the crew so much, they were so kind and helpful. The boat was as advertised and great we enjoyed a lot.

Arda / 01 Dec 2023 / 56ft Luxury Yacht

5.00
More Reviews