Online Booking
Departure

Depart.

Price

Adult/Child

Ad./Ch.

Seats left
Dubai Marina

Morning Sail

10 Dec 10:00 AM

Dubai Marina

12:30 PM
AED 260/160

*

Morning Sail
Plenty
Dubai Marina

High Noon

10 Dec 01:00 PM

Dubai Marina

03:30 PM
AED 260/160

*

High Noon
Plenty
Dubai Marina

Sundowner

10 Dec 04:00 PM

Dubai Marina

06:30 PM
AED 260/160

*

Sundowner
1 seats left

* Includes VAT
Departure

Depart.

Price

Adult/Child

Ad./Ch.

Seats left
Dubai Marina

Morning Sail

11 Dec 10:00 AM

Dubai Marina

12:30 PM
AED 260/160

*

Morning Sail
Plenty
Dubai Marina

High Noon

11 Dec 01:00 PM

Dubai Marina

03:30 PM
AED 260/160

*

High Noon
Plenty
Dubai Marina

Sundowner

11 Dec 04:00 PM

Dubai Marina

06:30 PM
AED 260/160

*

Sundowner
Plenty

* Includes VAT
Departure

Depart.

Price

Adult/Child

Ad./Ch.

Seats left
Dubai Marina

Morning Sail

12 Dec 10:00 AM

Dubai Marina

12:30 PM
AED 260/160

*

Morning Sail
Plenty
Dubai Marina

High Noon

12 Dec 01:00 PM

Dubai Marina

03:30 PM
AED 260/160

*

High Noon
Plenty
Dubai Marina

Sundowner

12 Dec 04:00 PM

Dubai Marina

06:30 PM
AED 260/160

*

Sundowner
Plenty

* Includes VAT
Departure

Depart.

Price

Adult/Child

Ad./Ch.

Seats left
Dubai Marina

Morning Sail

13 Dec 10:00 AM

Dubai Marina

12:30 PM
AED 260/160

*

Morning Sail
Plenty
Dubai Marina

High Noon

13 Dec 01:00 PM

Dubai Marina

03:30 PM
AED 260/160

*

High Noon
Plenty
Dubai Marina

Sundowner

13 Dec 04:00 PM

Dubai Marina

06:30 PM
AED 260/160

*

Sundowner
Plenty

* Includes VAT
Departure

Depart.

Price

Adult/Child

Ad./Ch.

Seats left
Dubai Marina

Morning Sail

14 Dec 10:00 AM

Dubai Marina

12:30 PM
AED 260/160

*

Morning Sail
Plenty
Dubai Marina

High Noon

14 Dec 01:00 PM

Dubai Marina

03:30 PM
AED 260/160

*

High Noon
Plenty
Dubai Marina

Sundowner

14 Dec 04:00 PM

Dubai Marina

06:30 PM
AED 260/160

*

Sundowner
Plenty

* Includes VAT
Departure

Depart.

Price

Adult/Child

Ad./Ch.

Seats left
Dubai Marina

Morning Sail

15 Dec 10:00 AM

Dubai Marina

12:30 PM
AED 260/160

*

Morning Sail
Plenty
Dubai Marina

High Noon

15 Dec 01:00 PM

Dubai Marina

03:30 PM
AED 260/160

*

High Noon
Plenty
Dubai Marina

Sundowner

15 Dec 04:00 PM

Dubai Marina

06:30 PM
AED 260/160

*

Sundowner
Plenty

* Includes VAT
Departure

Depart.

Price

Adult/Child

Ad./Ch.

Seats left
Dubai Marina

Morning Sail

16 Dec 10:00 AM

Dubai Marina

12:30 PM
AED 260/160

*

Morning Sail
Plenty
Dubai Marina

High Noon

16 Dec 01:00 PM

Dubai Marina

03:30 PM
AED 260/160

*

High Noon
Plenty
Dubai Marina

Sundowner

16 Dec 04:00 PM

Dubai Marina

06:30 PM
AED 260/160

*

Sundowner
Plenty

* Includes VAT
Looking for a future date?
Book with confidence, free cancellation, cancel up to 24 hours in advance to receive a full refund



Gulet Experience
Enjoy swimming and BBQ onboard our traditional Turkish Gulet. It's the first and only sailing boat in the entire UAE to offer sailing with a swimming experience. Sail along Dubai Marina, JBR and we'll anchor for a swim at the newly opened Dubai Lagoon. Take a plunge and capture the most scenic views as your backdrop.
Operates Daily
Food and Beverages all inclusive
Red Carpet Departure
Fully A/C lower deck
Swimming & inflatables included
Highlights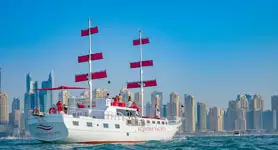 Scenic Views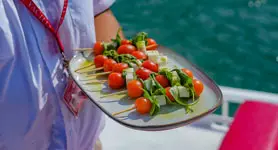 BBQ Pass Around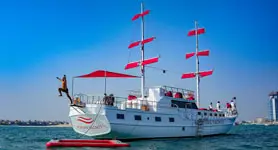 Swimming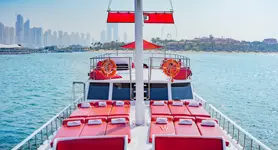 Sunbeds
FAQ
Daily we run a Morning Sail at 10:00am to 12:30pm ,High Noon at 13:00pm to 15:30pm and Sundowner at 16:00pm 18:30pm.
We do not offer transfers, please make your own way:
Xclusive Marina – Behind Al Majara Towers
By Metro: arrive at DMCC Metro Station
By Taxi: drop off at Al Majara Towers
By Car: parking at Marina Mall (3 hrs free)
Where is the boarding point?
Do you have parking facilities?
By Car: we recommend you to park at Marina Mall (3 hrs free)
What is your Infant policy?
Infants and children below 3 are free, please inform us number of infants/children
Is there a tour guide on board?
We operate audio GPS guided system which will tell you about each icon as you navigate past it.
Can I bring in food and drinks?
Food and beverages will be served on board. The BBQ will include meat, chicken and vegetarian options with side salad dishes and bread.
What time should we arrive on the day of the cruise?
Please arrive 20-30 min prior to your charter and make the operations team aware when you arrive.
The boat will depart sharp, we recommend you arrive at least 15 minutes prior, no refunds will be given if you miss the boat.
Free cancellation upto 24 hours before departure, note refunds can take upto 14 working days to process.
Photo Moments
We liked the crew so much, they were so kind and helpful. The boat was as advertised and great we enjoyed a lot.

Arda / 01 Dec 2023 / 56ft Luxury Yacht

5.00
More Reviews