Online Booking
Departure

Depart.

Price

Gents/Ladies
Dubai Marina

Night Party

Today 09:00 PM
Night Party

Dubai Marina

01:00 AM
AED 310/210

*

Tickets: Limited

Limited
Night Party

* Includes VAT
Departure

Depart.

Price

Gents/Ladies
Dubai Marina

Night Party

Tomorrow 09:00 PM
Night Party

Dubai Marina

01:00 AM
AED 310/210

*

Tickets: Limited

Limited
Night Party

* Includes VAT
Departure

Depart.

Price

Gents/Ladies
Dubai Marina

Night Party

10 Dec 09:00 PM
Night Party

Dubai Marina

01:00 AM
AED 310/210

*

Tickets: Limited

Limited
Night Party

* Includes VAT
Departure

Depart.

Price

Gents/Ladies
Dubai Marina

Night Party

15 Dec 09:00 PM
Night Party

Dubai Marina

01:00 AM
AED 310/210

*

Tickets: Plenty

Plenty
Night Party

* Includes VAT
Departure

Depart.

Price

Gents/Ladies
Dubai Marina

Night Party

16 Dec 09:00 PM
Night Party

Dubai Marina

01:00 AM
AED 310/210

*

Tickets: Plenty

Plenty
Night Party

* Includes VAT
Departure

Depart.

Price

Gents/Ladies
Dubai Marina

NYE Party

31 Dec 09:00 PM
Night Party

Dubai Marina

01:00 AM
AED 2000/2000

*

Tickets: Plenty

Plenty
NYE Party

* Includes VAT
Book with confidence, free cancellation, cancel up to 24 hours in advance to receive a full refund

4 Hours
Meet like minded people and enjoy a fun filled yacht party. strictly 21+ only. Sailing daily from 1pm and 9pm. 4 hours of fun, with great music, people, food & drink.
Strictly 21+ years and above
Live DJ
Live BBQ on Board
Beverages
Highlights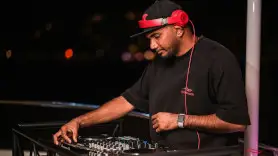 Live DJ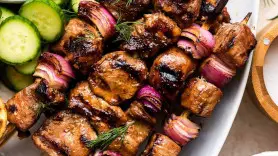 Live BBQ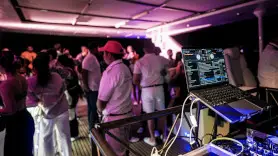 All Exclusive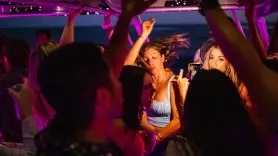 Dance
FAQ
Yes swimming is permitted subject to weather conditions and only on the daytime party. swimming is prohibited after sunset.
What are the ratios guys to girls?
We will ensure the ratios are at least 50/50 to make a nice enjoyable experience for all on board.
Who is the DJ and what sort of music will they play?
Our resident DJ will be spinning the latest International music, can also play songs upon request
The boat will depart sharp, we recommend you arrive at least 15 minutes prior, no refunds will be given if you miss the boat.
Loose comfortable clothing, for the day party you can wear swim wear shorts etc.
Minimum age is 21+ all guest will be checked ID prior to departure.
Can I bring my own food and drinks
No, you cannot bring your own.
What food is served on board?
We will prepare a freshly cooked bbq, burgers & hotdogs. chicken & beef.
How many people will be on board?
Will be approximately 25 - 45 people on board.
There is any locker facility on board?
Where is the boarding point?
Do you have parking facilities?
By Car: We recommend you to park at Marina Mall (3 hrs free)
Will there be an assigned space for us?
There will be no allocated spaces for guests.
Free cancellation upto 24 hours before departure, note refunds can take upto 14 working days to process.
Photo Moments
We liked the crew so much, they were so kind and helpful. The boat was as advertised and great we enjoyed a lot.

Arda / 01 Dec 2023 / 56ft Luxury Yacht

5.00
More Reviews