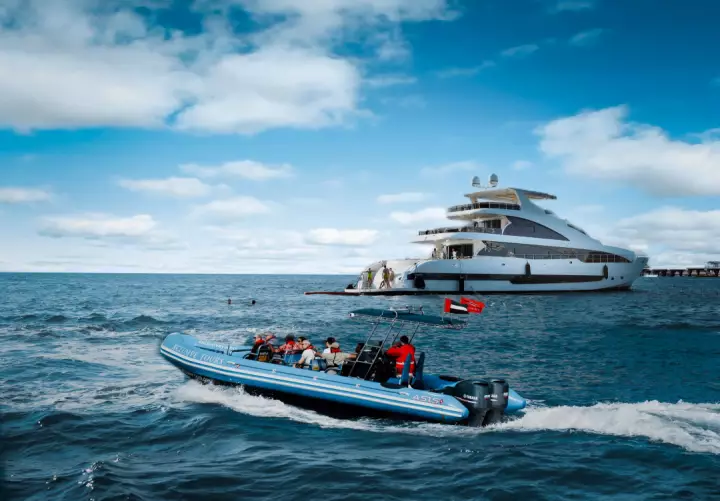 Luxury yachts have always been a symbol of opulence, and when it comes to super yachts, Dubai is one of the world's top destinations. With its stunning coastline, year-round sunshine, and world-class marinas, Dubai offers an unbeatable combination of luxury and indulgence.
This article will explore the world of superyachts in Dubai and discover what makes this destination so unique.
Dubai's Marina - A Haven for Super Yachts
Dubai's Marina is one of the world's largest artificial marinas, with a capacity for over 500 vessels. It is no surprise that it has become a haven for superyachts worldwide. The Marina offers all the facilities and services a yacht owner could need, from fuel and maintenance to luxury amenities such as spas, restaurants, and shopping.

Some of the world's most impressive superyachts can be found in Dubai's Marina, including the iconic 180-meter "Azzam," the world's largest yacht. With its sleek lines and luxurious interior, Azzam is a true masterpiece of engineering & design.
Chartering is a popular option for those who do not own a superyacht. Dubai offers a range of super yacht charter companies, each offering a unique experience tailored to the client's needs. From day trips to overnight stays, these companies can create a bespoke itinerary that takes in the best of Dubai's stunning coastline and attractions.

Whether it's a sunset cruise along the Dubai Marina, a trip to the famous Palm Jumeirah, or a visit to the World Islands, there are plenty of options for those who are looking to charter a super yacht in Dubai. Some charter companies even offer exclusive access to private islands and luxury resorts, providing luxury and indulgence.
Super Yacht Events in Dubai

Dubai is also home to various annual superyacht events, including the Dubai International Boat Show and the Abu Dhabi Grand Prix. These events attract yacht owners and enthusiasts worldwide, showcasing the latest designs and innovations in super yachts.
In addition to these events, Dubai is also a popular destination for corporate events and private parties on board super yachts. With its stunning skyline and warm climate, Dubai provides the perfect backdrop for various occasions, from intimate dinners to large-scale celebrations.
Why Dubai is the Ultimate Destination for Super Yachts
Dubai's combination of luxury amenities, world-class marinas, and stunning coastline make it the ultimate destination for super yachts. Whether you are a yacht owner looking for a home away from home, or a charter guest looking for the ultimate in luxury and indulgence, Dubai has something to offer.
From its iconic skyline to its world-renowned hospitality, Dubai is a destination that never fails to impress. With its commitment to innovation and passion for luxury, Dubai has firmly established itself as a leader in super yachts.
n conclusion, Dubai is a world-class destination for superyachts, offering an unbeatable combination of luxury, indulgence, and innovation. Dubai has everything from the world's largest yacht to exclusive island retreats. It is no wonder that Dubai has become a magnet for yacht owners and enthusiasts worldwide.

Dubai's fishing season is from October to May, but the best time to go fishing in Dubai is from November to April. During this time, the water is more relaxed, & you have a better chance to catch fish :)
Also, the weather is more pleasant during the winter months, making spending a whole day fishing m
Related Article :