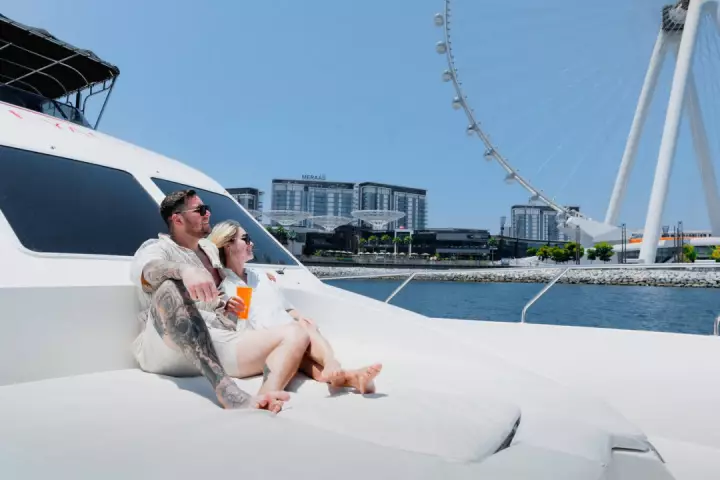 1. Fun: Renting a yacht is a fantastic experience that promises a lot of fun. Whether you're looking for a party yacht rental or a leisurely excursion, sailing around the UAE's waters under the sunny skies is guaranteed to be an enjoyable experience.
2. It's Affordable: Contrary to popular belief, renting a yacht in Dubai is less expensive than one might think. Split the cost between your friends and family, and you can enjoy a day on a luxury yacht for less than AED 200.
3. Discover Dubai: Discover Dubai's landmarks and attractions from a different perspective. View JBR, Dubai Marina, Bluewaters Island, Burj Al Arab, and Downtown from your luxury yacht.
4. Get set to go anywhere: With Xclusive Yachts Dubai, you can tell the captain where you want to go. Whether you want to anchor up outside JBR beach and go for a swim or view the Burj Al Arab from your luxury yacht, the choice is entirely yours.
5. Escape mass tourism: You can escape the hustle and bustle of Dubai's touristy areas and enjoy the company of your loved ones from the comfort of your own private yacht.
6. Sit Back and Relax: If you're not in the mood for a party yacht, no problem. Please sit back, relax, and enjoy a cold drink and a BBQ as our captain and staff take care of you on your private yacht.
7. It's Impossible to Get Bored: With staff waiting on you and a BBQ sizzling away, it's impossible to get bored on a luxury yacht. You can go swimming, enjoy the sights, or work on your tan.

8. Quality Time with Friends and Family: Out at sea on a luxury yacht rental, you can enjoy quality time with your friends and family without distractions.
9. Tailored Experiences: At Xclusive Yachts Dubai, we offer bespoke yacht rental experiences that cater to your unique needs and preferences. From sunset cruises to fishing trips, we have something for everyone.

10. Unforgettable Memories: Renting a yacht in Dubai with Xclusive Yachts is a unique experience that promises to create memories that will last . Book your yacht rental today and embark on a journey of a lifetime!
11. Safety: Safety is always a top priority when you're on the water. Yacht rental companies in Dubai ensure all safety measures are in place before you set sail. From life jackets to fire extinguishers, they provide that all safety equipment is in place and that the Crew is trained to handle any emergency.
12. Professional Crew: When renting a yacht in Dubai, you don't have to worry about navigating the waters or maintaining the vessel. Yacht rental companies in Dubai provide professional crew members trained to handle all aspects of the yacht. From navigation to maintenance, the Crew ensures your seamless and stress-free experience. Choose Xclusive Yachts - Yacht Charter Services.
13. 70+ yachts/boats to choose from: you can choose according to your budget and number of people and have fun.

Contact us to know more details :)
People who read this blog also read: