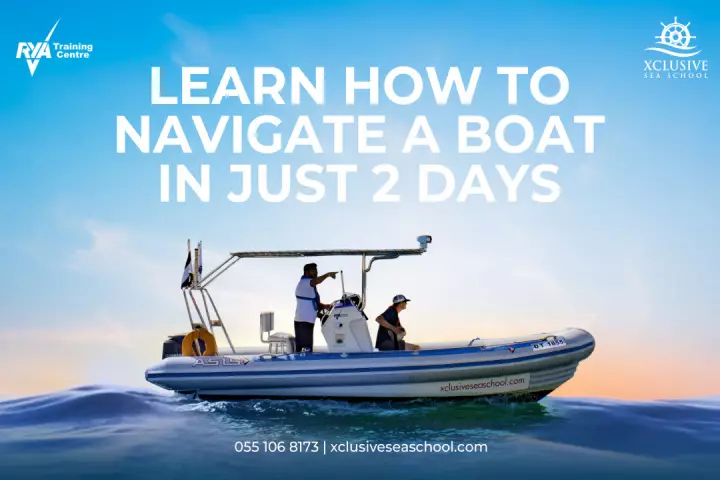 Do you ever daydream about gliding across the water, the wind in your hair, and the thrill of being in command of a boat? At Xclusive Sea School, we believe that your boating dreams can become a reality, and it doesn't take years of training. In just two short days, you can transform from a landlubber into a confident boat operator with our boating training program.

Why Choose Xclusive Sea School?

Quick and Simple: We understand that not everyone has the luxury of spending weeks or months learning to operate a boat. That's why we've condensed our training into just two days. It's quick, simple, and effective.
For Everyone: Whether you've never set foot on a boat before or have some experience, our training is designed to cater to all skill levels. We believe that boating should be accessible to everyone.
Hands-On Experience: We're not about boring lectures and thick textbooks. Our approach is hands-on. You'll be out on the water, learning by doing. It's the best way to gain confidence in boat operation.

Safety Matters: Before you embark on your boating journey, we'll equip you with essential safety knowledge. We want you to have fun on the water while keeping yourself and your passengers safe.

What Will You Learn?

In just two days of training with Xclusive Sea School, you'll master a range of skills, including:

Boat Handling: Learn how to steer a boat with confidence.

Safety Procedures: Understand the importance of safety equipment and procedures.
Navigation: Get the basics of navigating on the water.
Enjoyment: Most importantly, we'll show you how to have a fantastic time while boating.
Why Xclusive Sea School?

Friendly Instructors: Our instructors are not just experts in boating; they're also friendly and approachable. They're here to make your learning experience enjoyable.
On the Water: Located in the stunning waters of Dubai, our school offers you the perfect environment to learn. You'll practice your skills on the very waters you'll be exploring as a boat operator.
No Fuss, No Frills: We keep things straightforward. Our training is focused on what you need to know to enjoy boating safely and confidently. No unnecessary complications or jargon.
Confidence Boost: At Xclusive Sea School, we're not just teaching you to operate a boat; we're giving you the confidence to take your friends and family out on the water and create lasting memories.
Ready to Set Sail?
Don't wait any longer to make your boating dreams a reality. Join Xclusive Sea School now and unlock your inner captain in just two days. It's not just about learning; it's about embarking on an adventure and discovering the joys of boating in the simplest, most enjoyable way possible. Your boating journey starts here!


WHATSAPP | CALL +971 55 106 8173