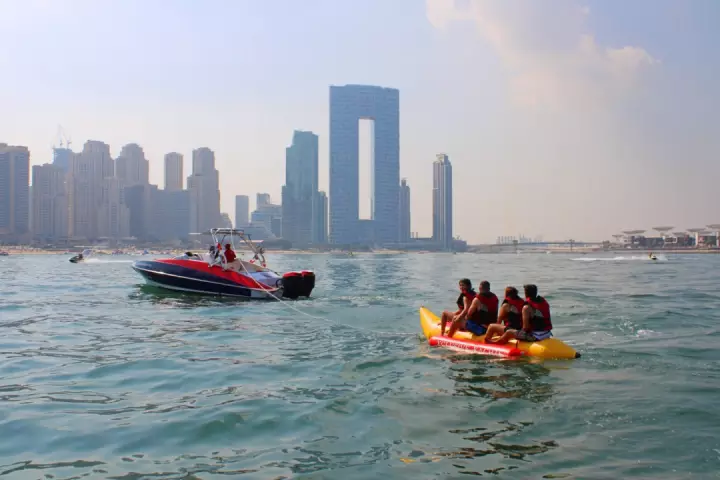 Outline

Introduction

What is a Banana Boat Ride?

Experience the Thrill of a Banana Boat Ride in Dubai

Xclusive Yachts: The Ultimate Banana Boat Ride Experience

Safety Measures and Precautions

Suitable Locations for Banana Boat Rides in Dubai

How to Book a Banana Boat Ride with Xclusive Yachts

What to Expect During a Banana Boat Ride

Benefits of Banana Boat Rides

Tips for a Memorable Banana Boat Ride Experience

Frequently Asked Questions (FAQs)
12.1. Are banana boat rides safe for all ages?
12.2. Can I bring my own life jacket for the ride?
12.3. What should I wear during a banana boat ride?
12.4. Is prior experience required to enjoy a banana boat ride?
12.5. Can I bring personal belongings on the banana boat?
12.6. Banana Boat Ride in Dubai with Xclusive Yachts
Imagine the warm sun kissing your skin as you glide through the sparkling waters of Dubai, laughing with your friends and family. The thrill of the wind in your hair and the splash of water beneath you make for an exhilarating experience. This is what a banana boat ride in Dubai is all about, and Xclusive Yachts is here to make it an unforgettable adventure.
Introduction
Dubai, known for its luxurious experiences and breathtaking attractions, offers a wide range of thrilling water activities. Among them, the banana boat ride stands out as a popular choice for those seeking an adrenaline rush on the Arabian Gulf. This article will guide you through the exciting world of banana boat rides in Dubai, with a focus on the exceptional experience provided by Xclusive Yachts.
What is a Banana Boat Ride?
A banana boat ride is a water activity that involves riding an inflatable boat shaped like a banana, which is towed by a speedboat. The banana boat can accommodate several riders, typically ranging from three to six participants. The thrilling aspect of this activity lies in the high speed and sudden turns, which create an enjoyable challenge for riders as they try to maintain balance and hold on tightly.
Experience the Thrill of a Banana Boat Ride in Dubai
Dubai's azure waters and perfect weather conditions make it an ideal location for adventurous water sports enthusiasts. A banana boat ride in Dubai offers an exciting opportunity to explore the coastline and indulge in the exhilaration of riding on the open sea. Whether you're a thrill-seeker or simply looking to have fun with friends and family, this activity guarantees an unforgettable experience.
Xclusive Yachts: The Ultimate Banana Boat Ride Experience
When it comes to banana boat rides in Dubai, Xclusive Yachts is a name that stands out. Renowned for the commitment to excellence and top-notch service, Xclusive Yachts offers a luxurious and safe experience for riders of all ages. Their well-maintained boats, experienced crew, and attention to detail ensure a seamless and enjoyable adventure.
If you would like to rent a yacht in Dubai we have 70+boats and yachts to choose from.
Safety Measures and Precautions
Safety is a top priority for Xclusive Yachts, and they take every necessary precaution to ensure the well-being of their guests. Before embarking on a banana boat ride, participants are provided with life jackets and given a safety briefing by the experienced crew. It is essential to follow all instructions and guidelines to ensure a safe and enjoyable ride.
Suitable Locations for Banana Boat Rides in Dubai
Dubai boasts several scenic locations where you can enjoy a thrilling banana boat ride. Jumeirah Beach, with its pristine waters and stunning views of Dubai's skyline, is a popular choice among tourists and locals alike. The Palm Jumeirah and Dubai Marina are also excellent locations that offer picturesque backdrops for your adventure.
How to Book a Banana Boat Ride with Xclusive Yachts
Booking a banana boat ride with Xclusive Yachts is a straightforward process that can be done online or through their dedicated customer service or feel free to call us on +971 4 432 7233. our user-friendly website allows you to browse through available packages, select your desired date and time, and make a secure online payment. Alternatively, you can reach out to their friendly customer service team who will assist you in making a reservation and answer any queries you may have
.
What to Expect During a Banana Boat Ride
Once you arrive at the designated meeting point, you will be greeted by the professional crew of Xclusive Yachts. They will guide you through the safety procedures, provide you with life jackets, and ensure that you are comfortable and ready for the adventure ahead. The banana boat ride will start as the speedboat pulls away, gradually picking up speed, and the thrill of the ride begins. You will feel the rush of excitement as the boat bounces over the waves, and the panoramic views of Dubai's coastline unfold before you.
You might like to explore our WATER SPORTS PACKAGE: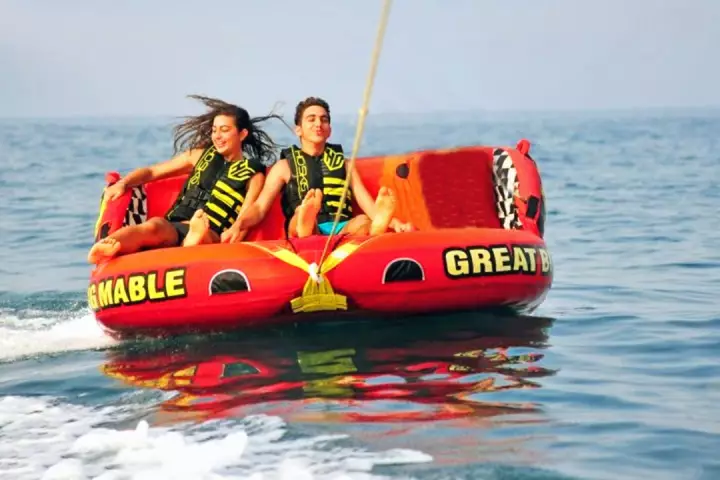 Benefits of Banana Boat Rides
Banana boat rides offer a multitude of benefits for participants of all ages. Firstly, they are an excellent way to bond with family and friends as you share in the excitement and laughter throughout the ride. Additionally, the thrill and adrenaline rush experienced during the ride provide a sense of adventure and create lasting memories. Banana boat rides also offer a unique perspective of Dubai's stunning coastline, allowing you to appreciate its beauty from a different vantage point.
Tips for a Memorable Banana Boat Ride Experience
To ensure a memorable banana boat ride experience, consider the following tips:
Dress appropriately: Wear comfortable swimwear and secure any loose items.

Apply sunscreen: Protect your skin from the sun's rays by applying sunscreen before the ride.

Hold on tight: Maintain a firm grip on the handles of the banana boat to enhance stability.

Communicate with the team: If you have any concerns or questions, feel free to communicate with the crew who are there to assist you.

Embrace the experience: Let go of any inhibitions, embrace the thrill, and enjoy the ride to the fullest.
11. Conclusion A banana boat ride in Dubai with Xclusive Yachts offers an exhilarating adventure that combines adrenaline-pumping excitement with stunning views of the city's coastline. With a commitment to safety, luxury, and exceptional service, Xclusive Yachts ensures an unforgettable experience for riders of all ages. So, gather your friends and family, and embark on a thrilling banana boat ride that will create memories to last a lifetime.