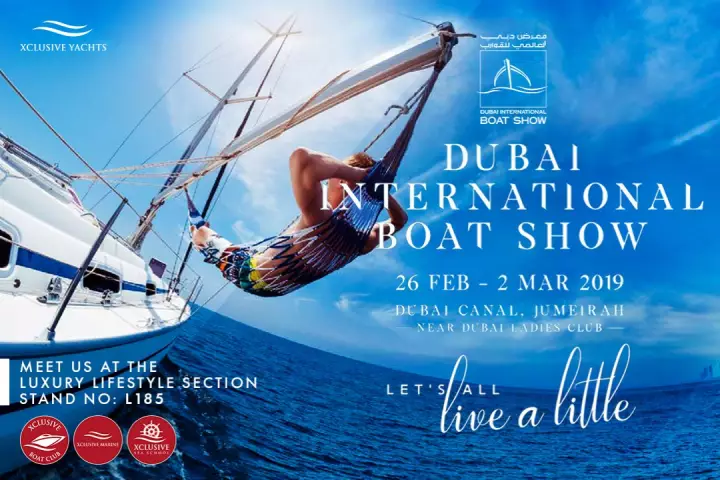 The Dubai International Boat Show is the region's number one marine luxury, leisure and lifestyle industry event. It is one of the most anticipated lifestyle events in the Middle Eastern marine and luxury industry calendar and we are now on our 4th time joining this event. Xclusive Yachts is excited to showcase 3 of our newest services;
Xclusive Boat Club
Xclusive Marine

Xclusive Sea School
Xclusive Boat Club
Having been in the marine, luxury and lifestyle industry for over a decade, we have witnessed the increasing demand in boat ownership. However, this demand does not come cheap. Xclusive Boat Club takes off all the irritating inconveniences that come along with owning a boat. From registration to boat licensing, maintenance and berthing, we save you all the hassle with our very own boat club membership.
We offer a realistic membership plan and can even tailor-fit to suit your boating needs. Our Boat club membership gives you the freedom to drive and use our brand new boats as you own them. Why buy one specific boat if you can "have" and drive one from fishing boats, wakeboarding boats, surfing boats, mini yachts, speed cruisers and wait, more boats to come this year. Additional amenities such as wakeboards, ski's, tubes, kneeboards, fishing equipment, BBQ grill, and even your own captain are all available on request.
Xclusive Sea School
Don't know how to drive a boat nor have your boat license? Xclusive Sea School is the newest boat training center in Dubai where you can get your boat driving certificate in just 2-days! We are internationally recognized DMCA approved RYA training center offering Powerboat driving training. You can now drive a boat of up to 12 meters anywhere around the world. Visit our stand at the boat show and avail of our sizeable discount for the training and get it for free when you sign up for our boat club membership.
We offer a Special Boat Show Offer of AED 449 on your Powerboat Level 2 course.

Xclusive Marine

Okay, you do not need a boat club membership coz you have your own boat. Xclusive Marine is your one-stop solution for all your boating needs – We offer a wide range of marine maintenance services as highlighted below;
Mechanical Repairs
Engine Servicing
Antifouling
Carpentry Works
Fibreglass & Gelcoat
Electrical & Electronics
Air Conditioning
Fabrication & Welding
Painting
Deck Repair
Upholstery
What sets us apart from other marine maintenance and repair companies is that we too are boat and yacht owner. Not just one but a fleet of over 20 boats. Thus we understand your needs in terms of maintaining the beauty of your vessel.
Come meet us in the Dubai International Boat Show at Dubai Canal, Jumeirah on Feb 26 – March 2 from 3:00pm-9:30pm. Tell us what you need and we will cater for you. We have loads of exciting surprises and discounts waiting for you!