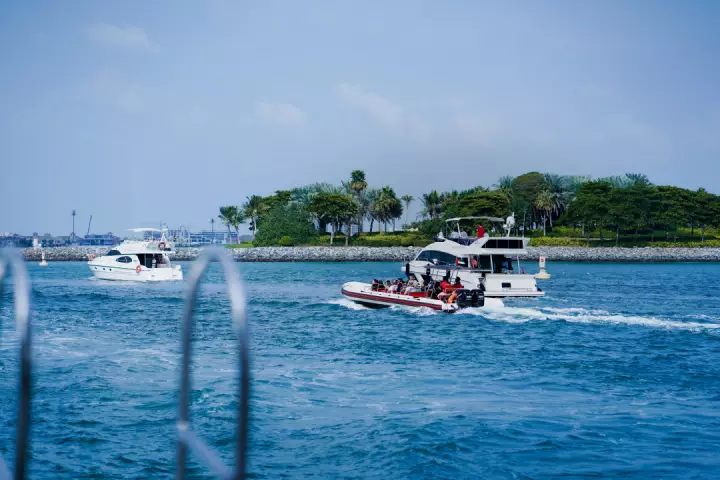 Introduction

Dubai, with its stunning coastline and luxurious lifestyle, offers an incredible opportunity to experience the high life on a rented yacht. Whether you are planning a romantic getaway, a memorable family vacation, or a corporate event, renting a yacht in Dubai can provide an unforgettable experience. However, to make the most of this luxury adventure, it's essential to know the dos and don'ts of renting a yacht. In this article, we will guide you through the key aspects to consider when renting a yacht in Dubai.

Dos of Renting a Yacht in Dubai

Do Proper Research

Before booking a yacht, take the time to research different yacht rental companies in Dubai. Read customer reviews, explore their fleet options, and compare prices. Look for reputable companies like Xclusive Yachts that have a proven track record of providing excellent service and maintaining high-quality yachts.

Choose the Right Yacht Charter

Consider the purpose of your trip and the number of guests accompanying you. Select a yacht that suits your needs, whether it's a smaller intimate yacht or a larger vessel with all the luxurious amenities. Assess the yacht's capacity, onboard facilities, entertainment options, and crew expertise to ensure it aligns with your requirements.


Understand the Terms and Conditions Carefully read and understand the terms and conditions of the yacht charter agreement. Pay attention to details such as cancellation policies, refundable deposits, insurance coverage, and additional charges. Being aware of these terms will help you avoid any unexpected surprises later on.

Plan Ahead for the Trip To secure the ideal yacht and availability, it's advisable to plan your trip well in advance. Dubai's popularity as a yacht charter destination means that peak seasons can get busy. By booking early, you can have a wider selection of yachts to choose from and ensure your preferred dates are available.

Check Safety Measures Safety should always be a priority when renting a yacht. Ensure that the yacht you choose meets all the necessary safety standards and regulations. Verify if the crew members are trained professionals with the appropriate certifications. A reliable yacht rental company like Xclusive Yachts will prioritize safety and provide you with peace of mind during your journey.
Don'ts of Renting a Yacht in Dubai

Don't Ignore Your Budget While renting a yacht is undoubtedly a luxurious experience, it's crucial to set a budget and stick to it. Determine your spending limit and explore the options that fall within your financial range. Avoid overspending and select a yacht that offers the best value for your money without compromising on quality.
Don't Overlook the Crew's Expertise The crew on board plays a significant role in ensuring a smooth and enjoyable yacht trip. Don't overlook the importance of an experienced and professional crew. They should have extensive knowledge of the local waters, excellent hospitality skills, and be ready to cater to your needs. Verify the crew's qualifications and reputation to guarantee an exceptional experience.
Don't Forget to Inspect the Yacht Before finalizing your booking, it's essential to inspect the yacht in person or through detailed photos. Check for cleanliness, maintenance, and overall condition. Make sure the amenities and facilities mentioned in the listing match your expectations. If possible, arrange a visit to the yacht's location to have a firsthand experience of its quality.
Don't Skip Reading the Contract Never sign a yacht charter contract without thoroughly reading and understanding it. Pay close attention to the terms regarding damages, liabilities, cancellation policies, and any additional charges. If there are any clauses or points you are unsure about, seek clarification from the rental company before proceeding.
Don't Delay in Making Reservations' To secure your desired yacht, don't delay in making reservations once you have decided on the dates. Yachts can get booked quickly, especially during peak seasons or for popular events in Dubai. By making early reservations, you avoid the disappointment of missing out on your preferred yacht and ensure a seamless planning process.
Conclusion
Renting a yacht in Dubai offers an extraordinary experience of luxury and relaxation. By following the dos and don'ts outlined in this article, you can make the most of your yacht rental adventure. Remember to do proper research, choose the right yacht charter, understand the terms and conditions, plan ahead, and prioritize safety. Simultaneously, avoid overlooking your budget, the crew's expertise, the inspection process, reading the contract thoroughly, and delaying in making reservations. With these guidelines, you'll embark on a memorable journey that exceeds your expectations.
FAQs
Q1: Are the prices of yacht rentals in Dubai fixed, or can they be negotiated?
A: The prices of yacht rentals in Dubai can vary depending on factors such as the yacht size, amenities, duration, and season. While some companies offer fixed prices, there might be room for negotiation, especially during non-peak seasons or for long-term rentals. It's always worth inquiring with the rental company to see if any discounts or special offers are available.
Q2: Can I bring my own food and drinks on the rented yacht?
A: In most cases, you are allowed to bring your own food and drinks on the rented yacht. However, it's essential to check the policies of the rental company beforehand. Some companies may have restrictions or corkage fees for outside catering. If you prefer a hassle-free experience, many yacht rental companies in Dubai offer catering services and customizable menus.
Q3: Can I rent a yacht in Dubai without a skipper or captain?
A: No, renting a yacht in Dubai typically requires a skipper or captain to ensure the safety of all passengers and comply with local regulations. The captain's expertise and knowledge of the area are vital for a smooth and enjoyable journey. The rental company will provide a professional skipper who will navigate the yacht, allowing you to relax and enjoy your time on board.
Q4: What happens if the weather conditions are unfavorable on the day of my yacht rental?
A: If the weather conditions are deemed unsafe by the rental company or if there are any unexpected circumstances, they will provide alternative solutions. These may include rescheduling the trip to another suitable day, offering a different yacht from their fleet, or providing a refund if cancellation is necessary. It's important to communicate with the rental company and follow their instructions in such situations.
Q5: Can I extend the duration of my yacht rental once the trip has started?
A: Extending the duration of your yacht rental is possible in some cases, depending on availability and prior arrangements. It's recommended to discuss the possibility of an extension with the rental company before the trip starts. They will inform you of the feasibility and any additional costs associated with extending the rental period.
You might like: The Top Swimming Spots in Dubai | Where to Take a Dip With Your Xclusive Yachts Rental