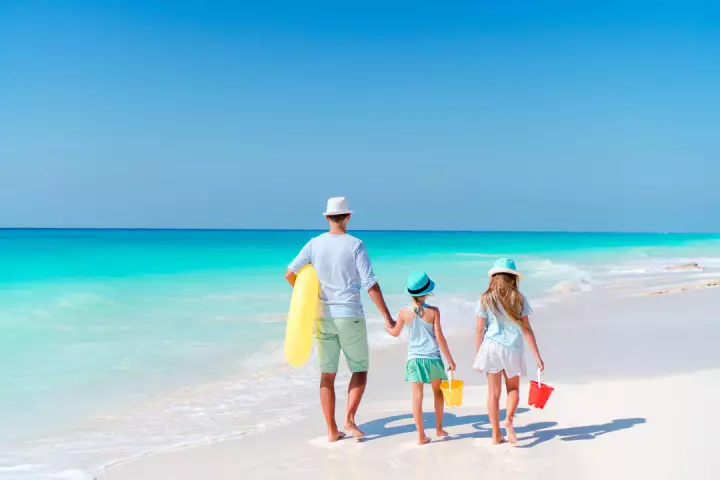 Experience Unparalleled Fun and Relaxation at Dubai Islands Beach

Dubai, renowned for its vibrant attractions and stunning coastlines, has just unveiled its latest gem - Dubai Islands Beach. This pristine public beach promises an unforgettable beach day for families and their furry friends while providing a picturesque setting for an enjoyable escape.
A Dog-Friendly Haven for Beach Enthusiasts
Located along Dubai's scenic northern coastline near Deira's waterfront, Dubai Islands Beach offers a remarkable experience accessible from sunrise to sunset. What sets this beach apart is its dog-friendly policy, allowing you to bring your beloved four-legged companion along for a memorable outing. No more leaving your furry friend behind; they can frolic in the sand and surf alongside you.
Endless Activities Await
Dubai Islands Beach caters to various interests, ensuring something for everyone. Nestled just a stone's throw away from Resorts in Dubai and Hotels, this beachfront heaven boasts many activities to keep you and your loved ones entertained throughout the day.
Engage in thrilling watersports, challenge friends to a friendly beach volleyball or football game, or explore the calm waters through kayaking in Dubai and more. The endless options guarantee an action-packed day filled with laughter and cherished memories.
An Exciting Future Awaits
Dubai Islands Beach has grand plans in store for its visitors. As the city's newest beach destination, it has exciting developments on the horizon. In the coming months, numerous food and beverage venues will be opening along the waterfront, adding to the beach's allure and ensuring a variety of culinary delights to satisfy every palate. Stay informed about the latest updates on this vibrant hotspot by following Time Out Dubai.
Convenient Accessibility
Getting to Dubai Islands Beach is a breeze, thanks to its convenient accessibility options. Whether you prefer road or water transportation, reaching this idyllic paradise is a seamless experience.
You can rent a yacht in Dubai and enjoy this Beach. Boats and yachts can be anchored nearby Nakheel Marina Dubai Islands, disembarking to embark on a day filled with thrilling activities at this brand-new sandy heaven.
Your Next Beach Adventure Awaits
With its stunning location and many attractions, Dubai Islands Beach beckons beach enthusiasts from far and wide. Escape to this picturesque destination for a day filled with sun-kissed shores, crystal-clear waters, and a warm, welcoming atmosphere. Make plans now and include Dubai Islands Beach on your list of must-visit destinations. It's time to create unforgettable memories and embrace the ultimate beach experience.
Location: Near Deira Waterfront
Making Plans? Then You Might Like:
Indulge in a luxury yacht rental in Dubai with XCLUSIVE YACHTS, offering unforgettable charters and tailored services. Whether you seek a serene cruise or a thrilling adventure in Dubai, XCLUSIVE YACHTS is your perfect partner. Discover the unrivaled beauty of Dubai's coastline while enjoying personalized service and unmatched comfort. Contact XCLUSIVE YACHTS today to elevate your Dubai experience to new heights.