Have you always wanted to attend a glamorous yacht party in Dubai? Well, if you're ready for the spotlight on the high seas, make sure you look your best with these tried and true tips for dressing up like a VIP! Whether it's your first or tenth time setting foot on deck for a luxury cruise, this guide will help ensure your style shines through while looking stunningly fashionable. From picking out key pieces that fit the dress code specified by the invitation to perfecting accessorizing details – get ready to craft a fantastic ensemble explicitly tailored for a night of fun under the moonlight!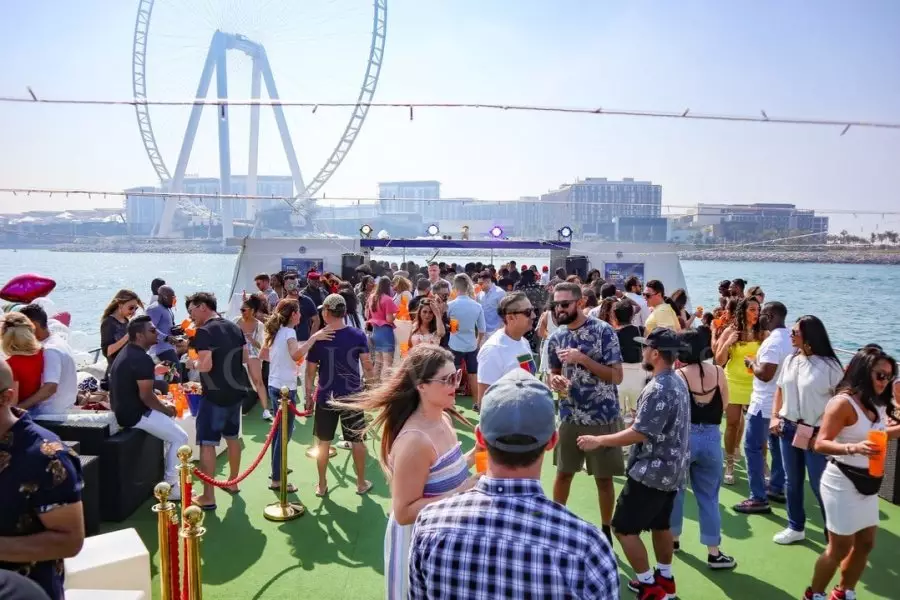 What to Wear – Tips for Finding the Perfect Outfit
Choosing the right outfit can be a daunting task that requires time and planning. Fortunately, some helpful tips can make the process easier and more enjoyable:
Consider the occasion and dress code to determine the appropriate level of formality.
Pick a color scheme that complements your skin tone and enhances your features. Mix and match patterns and fabrics to create a unique look that reflects your style.
Accessorize carefully with jewelry, shoes, and handbags that adds the perfect finishing.
By following these simple tips:
Make a Statement with Your Accessories
Accessories are a fun and easy way to add personality to any outfit and can make a statement! Whether you prefer bold statement jewelry or a colorful scarf, there are many options.
When picking out accessories, don't be afraid to mix and match different colors, textures, and styles to create a unique look that fits your personality.
And remember, sometimes less is more - a single standout accessory can sometimes have more impact than a bunch of smaller ones. So go ahead and have fun with your accessories - they're the perfect way to express yourself!
Dress According to Weather Conditions
It's always a good idea to dress according to the weather conditions. Don't let a sunny forecast deceive you into wearing shorts and a tank top if the temperature drops by midday.
Check the temperature and wind speed before choosing your outfit. If it's going to be really windy, wear a jacket or coat that's tightly secured to protect yourself from the wind.
On chillier days, layer your clothing to peel off excess layers if the temperature rises. Be sure to wear appropriate footwear for the weather conditions, whether rain boots for a damp day or sneakers for a balmy afternoon.
By dressing appropriately for the weather, you'll not only be more comfortable, but you'll also look stylish and put-together.
Focus on Comfort Over Trendy Threads
When dressing up, many of us quickly follow the latest trend. But remember that feeling comfortable in what we wear is just as important as looking good.
After all, what good is that stylish outfit if you can barely move in it or it's causing discomfort all day? So next time you decide what to wear, consider choosing pieces that look great and feel great.
It could be a cozy sweater, some stretchy pants, or your favorite pair of sneakers. Whatever it may be, remember that comfort should always be a top priority!
Choose an Appropriate Color Palette
Choosing the perfect color palette can make all the difference in captivating an audience. The right color combination can create a visually stunning and cohesive experience for a website, branding, or any visual project.
Colors can evoke emotions and send messages, so it's essential to consider the tone. With endless color options, it can be overwhelming, but don't worry - it's all about finding the balance between complementary colors and what speaks to you and your brand. So dive into the world of color and watch your project come to life with a friendly and inviting palette.
Don't Forget the Power of Layering
Hey there! As the weather gets cooler, it's important to remember the power of layering. Yes, we all want to look cute and fashionable, but staying warm is just as important.
Layering not only provides extra warmth but also allows for versatility in your outfit choices. Try to Mix and match different pieces to create a unique look while staying comfortable.

Remember to use texture and patterns to make your outfit stand out. So, next time you're putting together a business, remember the power of layering and stay warm and stylish all season long!

To sum up, discovering the quintessential outfit requires consideration of many relevant factors. What to wear is often determined by the occasion, and if it's for a summer yacht party, you'll want something that makes you stand out.

Remember to dress according to weather conditions and opt for comfortable pieces over trendy ones. The selection of colors can make or break an entire look, while layering will give your outfit some extra dimension.

Lastly, ensure your accessories help you express yourself while grasping everyone's extra attention. Now you know how to rock the perfect outfit for a yacht party, let Xclusive Yachts help make your occasion even more impressive - join us today!

Contact us to know about next yacht party in Dubai

Xclusive Yachts was established in 2006 & is Dubai's leading award winning yacht charter company. We are the only charter company to own its own fleet of yachts, setting the industry benchmarks & standards makes us pioneers in yacht chartering. Our experience and specialist knowledge enables us to anticipate and cater for the particular needs of your individual party.
People who read this blog also read: