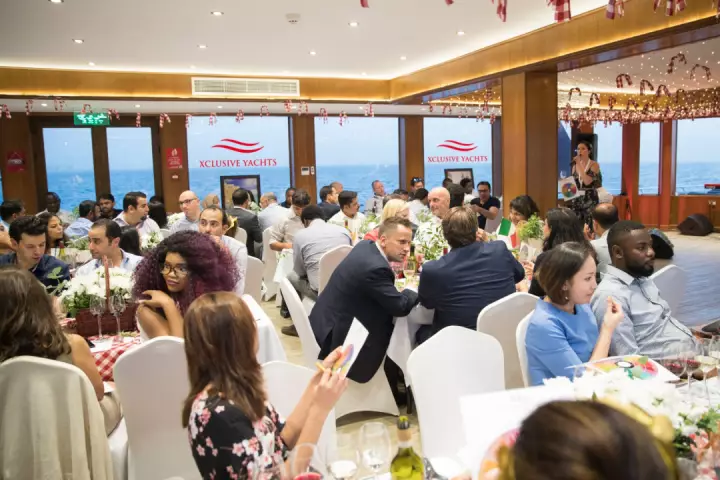 Are you seeking a unique and impressive way to host your next corporate event? Look no further than Yacht Hire with Xclusive Yachts! Here we are some of the top benefits of hosting corporate events on a yacht:
Memorable Experience:

Corporate events held on yachts are unforgettable and offer an impressive and sophisticated atmosphere. You will leave a lasting impression on your clients or colleagues, who will remember the event for years.

Exclusive and Private

:

Xclusive Yachts

offer exclusivity and privacy that traditional event venues cannot match. You can rent an entirely private yacht, with no interruptions from outsiders. Especially beneficial for events where confidentiality and privacy are critical.

Customizable

: At Xclusive Yachts, we offer customized yacht hire solutions to meet your needs. From choosing the perfect menu to arranging entertainment, we'll work with you to create the ideal event that aligns with your corporate goals.

Team Building

: Yacht hire is an excellent opportunity to facilitate team-building activities and promote teamwork. Activities such as fishing, snorkeling, and water sports will encourage collaboration and provide an enjoyable and relaxing atmosphere.

Networking

: A yacht hire event provides a unique freedom to network in a relaxed and informal setting. Your guests can socialize in Xclusive Yacht and build relationships while enjoying breathtaking Dubai views and top-notch services.

Brand Image

: Hosting a corporate event on a yacht will add value to your brand image. It shows your guests that you will go an extra mile to provide an exceptional experience.

Affordable

: 70+ yachts/boats to choose from. Consider a more cost-effective and hassle-free option

. And most importantly, remember to unplug from technology and take advantage of the time to bond with your fellow employees.
hosting a corporate event on a yacht is a unique and impressive way to impress your clients or colleagues. At Xclusive Yachts, we offer customized yacht hire solutions tailored to your needs. Search Yacht Rental Dubai or Contact us at +97144327233 today to start planning your next corporate event and give your guests an experience they'll never forget!
You may also like: